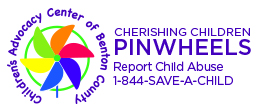 About the Cherishing Children Pinwheel Campaign 
As a center, we want to raise more community awareness so that more children can be empowered to have a voice. This is one of the reasons that we place pinwheels all around Benton County during the month of April, which is the official child abuse awareness month. We want to see parents having conversations with their kids about body safety and what to do if someone they trust makes them feel uncomfortable.
We hope that you will join our fight and become part of our Cherishing Children Pinwheel Campaign Sponsor team.
Sponsorship Information: 
A sponsorship of $150 from your place of business will help provide services to victims of abuse free of charge. In return, we will provide 50 pinwheels for you to display in front of your business to show your stand against child abuse. 
Sponsorship Benefits and Form: 
Please click on this link to view the sponsorship benefits and to complete the sponsorship form. 
Sponsorship Deadline: 
It is our hope to have all of our sponsors confirmed by Friday, March 10th in order to have all pinwheels in place by April 1st.
For Additional Information:
If you have any questions, please contact me at 479-621-0385 or Mackenzie@cacbentonco.com.
2016 SPONSORS:
Thank you to our 2016 Cherishing Children Pinwheel Sponsors and Locations. These locations in Benton County have agreed to help us spread awareness about child abuse throughout the month of April and mid-July through mid-August
Cherishing Children Pinwheel Sponsors ($100 sponsorship donation and 50 pinwheels with a sign on site and some businesses asking for donations to benefit CAC throughout the month of April and mid-July through mid-August)
Academy of Dance and Music
ATA Martial Arts
Belle Boutique
Best – Buy Here Pay Here
Bright Ridge Dental
Best Buy Here Pay Here
Callahan's Steakhouse
Community Christian Church
Cornerstone Children's Academy
Dayspring
Elizabeth Richardson Center
First National Bank of Northwest Arkansas (all Benton County locations)
George Nunnally Chevrolet
Glenhaven Counseling and Family Resources
Hull Dermatology (3 locations)
Inn at the Springs 
Kenny's Auto Service
Lifetime Dental
Mary's Little Lamb's
New Life Church
Parachuting Penguins
Pour Jon's 
Re/Max – Brenda Parker
Re/Max – Jim Sellers
Sager Creek Community Church
Siloam Springs Children's Center
Skydive Skyranch - Siloam Springs 
TJ's Pizza
Tucker's Furniture & Appliances
Yum Yo's (Rogers & Bentonville locations)
Pinwheel Locations ( 481 pinwheels onsite to represent the number of confirmed cases in 2015)
Bekaert
Bella Vista Police Department
Benton County Sheriff's Office
Bentonville Police Department
Cobb-Vantress
Little Flock Police Department
NWACC
Pea Ridge Police Department
Rogers Activity Center
Rogers Police Department
Siloam Springs Police Department
Siloam Springs Fire Department 
Learn More About Our Services: